Reactional Hair Loss Solution




OUR METHOD TO CURE SUDDEN, REACTIONAL HAIR LOSS
Prepare scalp for treatment
This is a very important step includes a relaxing and invigorating scalp massage with a pure essential oil COMPLEXE 5 or ASTERA Fluid to increase micro-circulation and straighten hair from the root.



Shampoo and Condition
Use TRIPHASIC stimulating shampoo to wash the scalp and hair. Condition the hair with a Triphasic Conditioner or conditioner/mask adapted to your hair type.
Apply the treatment
Apply TRIPHASIC REACTIONAL TREATMENT SERUM all over the head and lightly massage into the scalp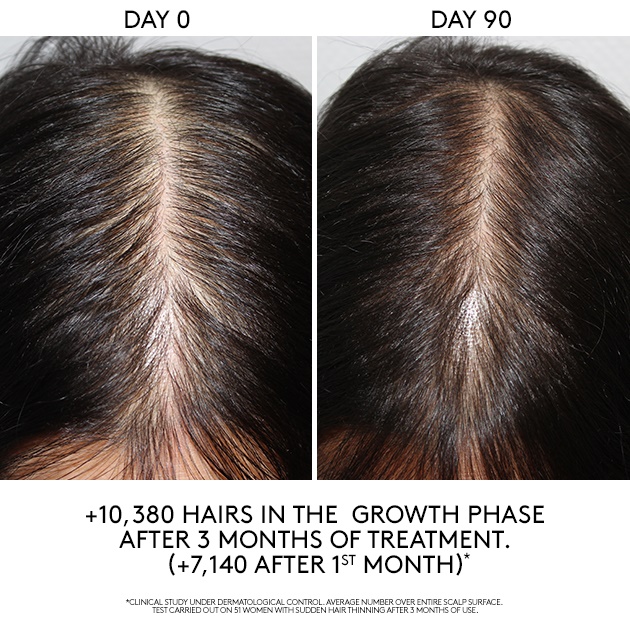 Stress, fatigue, illness, hormonal imbalance or pregnancy can provoke sudden hair loss.
Newly updated with TRIPHASIC REACTIONAL TREATMENT SERUM anti-hair loss treatment fights against the two factors responsible for reactive hair loss, vascular and nutritional. The latest innovation, ATP, acts deep in the heart of the follicular papilla to reactivate hair growth.
Particularly adapted to temporary hair loss in women, TRIPHASIC REACTIONAL TREATMENT SERUM launches hair regrowth and puts the is visibly stronger, more robust, and denser from the first month of treatment.
To find out more about hair loss and the effects of René Furterer care products:
- SUDDEN HAIR LOSS (due to stress, diet, illness, after giving birth):
DermatoMag - Sudden hair loss. Benefits of RF80 ATP ENERGIE Concentrated serum for hair loss - September 2015
---
REACTIONAL HAIR LOSS ROUTINE
REACTIONAL HAIR LOSS KITS & PROMOS